Have you ever wanted to Catch – Em – All, or at least make a TON of gold easily? Let us tell you about Polished Pet Charms and how they can be turned almost directly into Gold!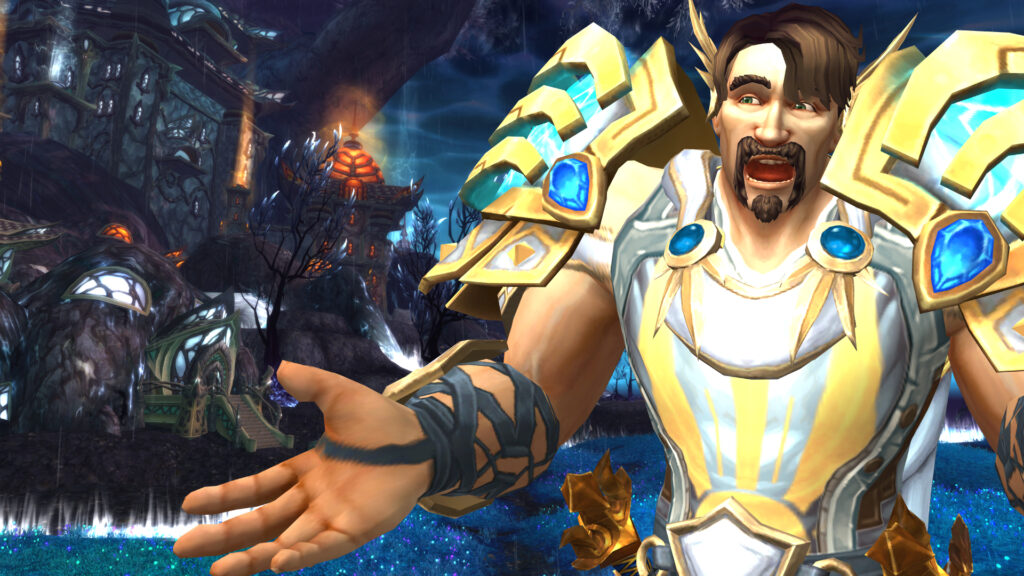 What: Polished Pet Charms
Where: BFA and Shadowlands World Quests and Mission Tables.
Why: Being able to exchange the Charms for pets that are no longer common, or buying quality/level upgrades.
How: By leveling your Mission Tables and doing World Quests in BFA and Shadowlands content, you can acquire thousands of Polished Pet Charms almost entirely passively!
Like all of the Guides released here on Erosiumtv.com, they are best paired with Erosium's YouTube if that's more your speed!
Make sure to Like and Subscribe if the video was helpful, and to appease the Algorithm!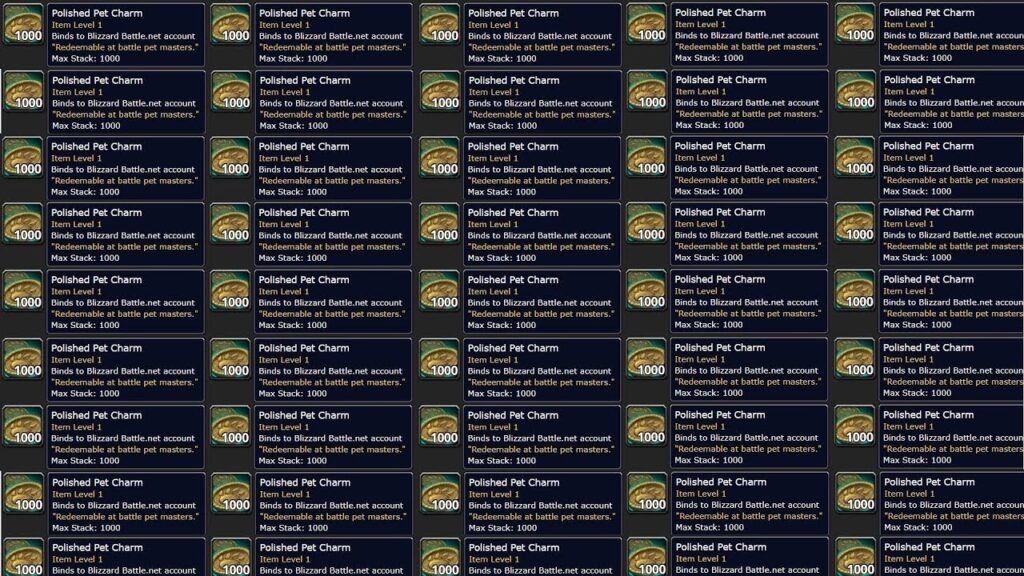 What is a Polished Pet Charm?
Polished Pet Charms are a currency added in the Battle for Azeroth expansion. They are primarily used to buy Pet Battle related items, such as Pets, Level and Quality enhancers, and even toys!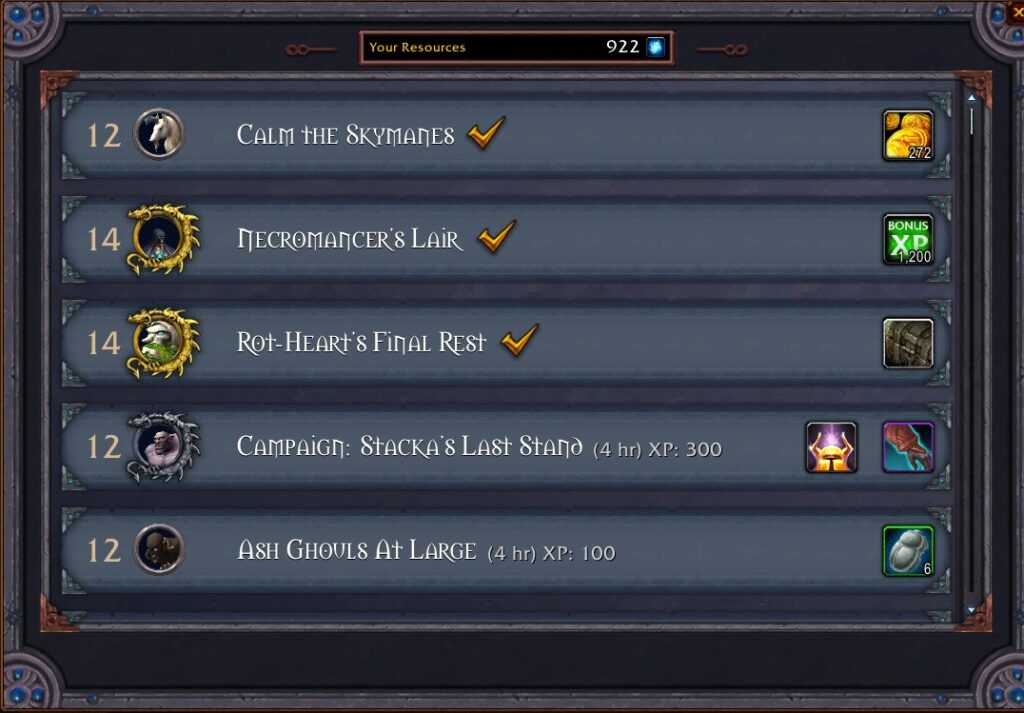 Where can I get Polished Pet Charms?
Polished Pet Charms can be collected as rewards for winning PvP pet battles, doing Pet Battle World Quests, and the EASIEST way, from your Mission tables!
Both the BFA Mission Tables and the Shadowlands mission tables can reward them, and both are accessible via the Companion App on your phone!

Why should I consider farming these pet charms?
The Battle Pet market is ridiculously lucrative. Battle pets can be learned on one server, and caged on another. This allows for gaining large amounts of gold on other servers.
BFA released a TON of pets that are now considered rare or hidden. These pets are great for Pet Battlers and Collectors, and can be sold for a HUGE profit.
At the end of this Guide will be a break down of Where the BFA vendors are, and how many total charms you need to buy all of the rare pets.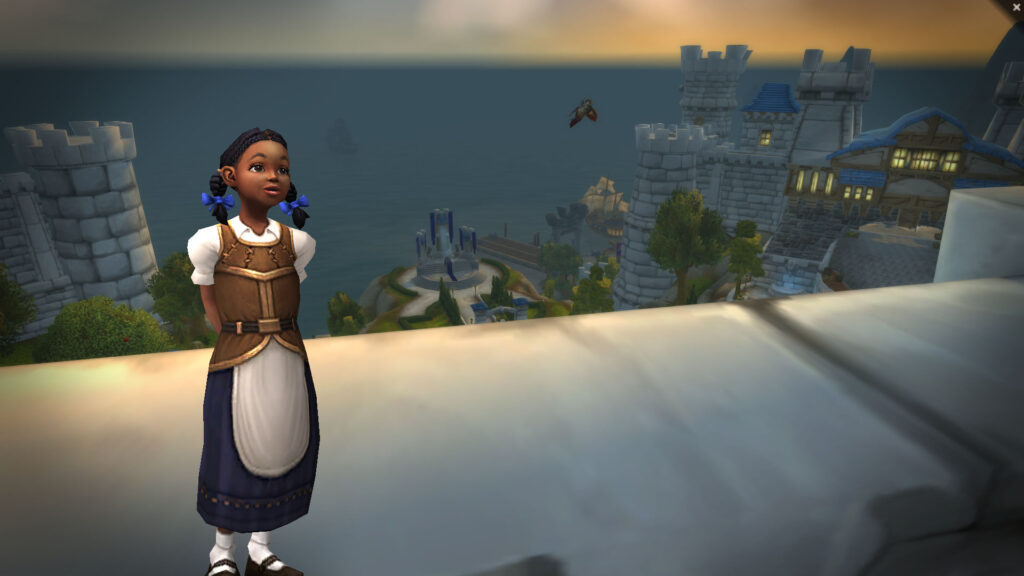 How can I farm these easily?
If you are one of our Patrons that is taking advantage of Erosium's Mission Table Speed Leveling Guide, then you probably have an Alt Army primed and ready to go!
The Mission tables in Shadowlands alone can reward up to 60 Polished Pet Charms a day on a maxed out table, per toon!
That is 600 a day if you have 10 toons!
Editor's note: There are also World Quests that can reward some charms here and there, but it is usually a better use of your time to just have an army of alts sending out Missions focused on pet charms!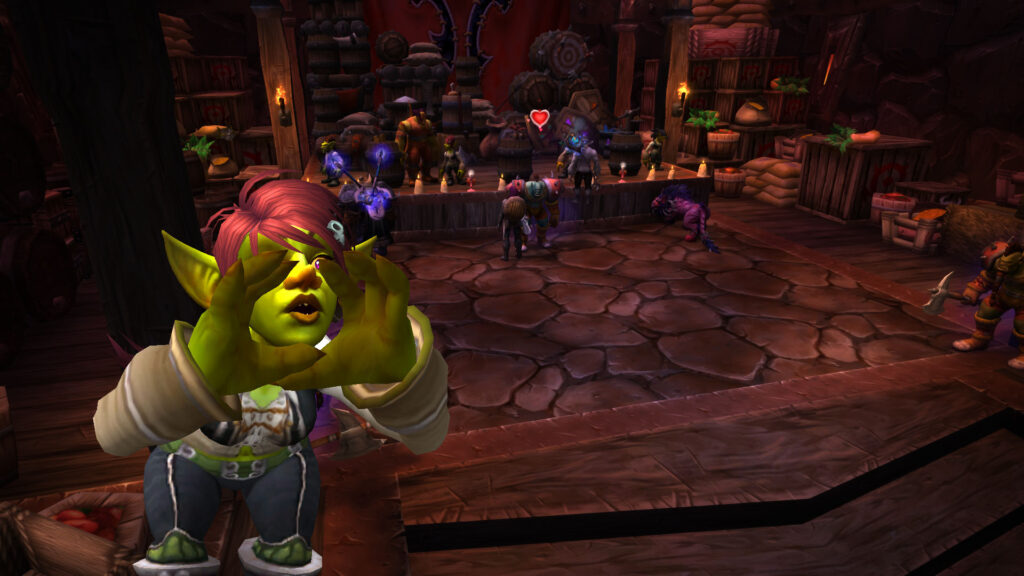 Okay… but how does any of this make me gold?
Well, simply put; You will buy high value pets, and then either level them up with a Battle Stone, or sell them at level 1!
Many of the pets on the upcoming list are 100 tokens or less, meaning you can easily buy multiple to save and sell!
TSM PETS Groups / Operations (Double click green writing and copy into TSM) – Import/Export:
fsztUTTruCCyg0nErqTbQwlKIcy3eumFpd5o7yhGcu36k526DvusJKienjbfLT7wc0wN2ISW76wDe8riNaEgYrONGo8dnZROjoCH9p(4)3)37nZOzNnxm8SF(0lp)7gCXto(8tVy4DL5rbukMZ8matHjcVXrbkMpZBtwagr9dWbKwMHSmwXnm17(A2jHGCHjo1emUjCltTmLJB0ulNkCO0MjdtSQzyrGOZCgXQMXDQLylZjmBMCkXfh4ohmrCbqVWngCrazlQSfvqScmiVlpHW1TcLSPBBzLnUeHamgWChJLb(BzcqpOhLcGEHWYkKtJps6yIR38PmB77BxoiiL1gd3M6dnSkGWTFWFBUKML4MfecL4qHdDMBoiz9GHSNbAyILzw9mcgWeatbmhWcaRCmv6QfddyoGfawbyFhZraMaygGbEYb(iaZLaOra6nbuVFGAllb9SeuxPBnKdMDo3PNd6tohOh0ZCUaWsa76hUa4PcYa)va)vo)vukGv29AL5NW0o2h72V8D3Bq8b77(D771hR8BTSdLBDHbuZSRiuercyFhtBR0GAwu7M5FUV6B7jkMaykcW2J6uA7XJsd2wcd1D9snHTK)wDC7xDxdk6oL1HQwLsRsz9LnTK0gZETKIz)DTI1(9EEJ65nBZrRNueLMeLm)PvELPxRZZJMQhv(Y8WzfMO9Q(TrLdxKMLvlP8ZprplCDCHj64Hjrz68Nw9AZl3)J6KPP5Dj8WpfMRxKUEv37ZQ(1EvE39PLHJnv4SWBlVk82ZZJMO3moA6568j6KINC)44WjlJJwv492jHjt0Xd0zPRkgL9zWxVyrUE1I04Ppdp)DTF4hsMA8yDXOYPRZdRNNpjBVO5jP56Vj9Mt6ITZBxQ1zF)6WKIOIFzF0gttC6Tzrg72hv9MSNF2rx2)aoc9f9No(QW8L6Ix0V71C9CJdTbdVE(HLxfL0mazhE2x)T1zbtIWFF58GPFUkmUnTN3Kg9)wm67Vy51J9ldZ2NSjRo5b6v6IQ)UCD3y)m0KQFF3Q76v96xv9MYT(9pMbRiDYs3e)UUidtxBwYx9QJdJlwTOmS9mWQfhpomz5IbZxhfpDr2EMv5BoQBhRPRhv9hMA0BZyDC6nnrUDNlnRIhCDZU)kDC8l6hnBEXbNC8GMH4SMo5ORNxVOGmpga9vQpSkmYQs(Hv5Ss8rkyJi(hPEnIypE5A0qFKQTvd5XlwJgC9Fq8d7E6)L9)FQpS6p3T6V2D3)9p
All thats left.
All you have to do now is collect some charms, and check out the market for pets on your prospective servers!
I hope that this guide has served you well, and if you have any questions feel free to ask in the Patron Section of the Discord!
Catch-em-all responsibility. Erosium is not liable for any Rabies you collect on your journey!